Active Research
Simulating the Surfaces of Stars
Joel Tanner, Sarbani Basu, Pierre Demarque, Frank Robinson
Using 3D radiation hydrodynamic simulations, we model the surface layers of low-mass main sequence stars with the aim of improving stellar models. Traditional 1D models typically use the mixing length theory (MLT) to describe convection. Although MLT can adequately describe the gas dynamics in regions of efficient convective energy transport, it breaks down in regions of transition from convective to radiative energy transport, which occurs near the surface of stars with convective envelopes (click here for a granulation animation (avi)).
Figure 1 shows the granulation of 0.70 solar mass star over approximately 3000 square kilometers near the surface. The temperature at the surface shows the surface granules separated by the cool downdrafts that define the inter-granular lanes.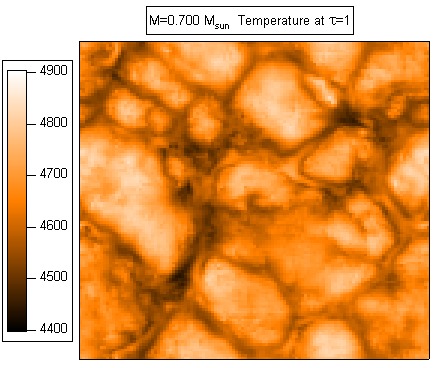 Figure 1: Horizontal slice of temperature near the surface of a 0.70 solar mass star.

Comparing simulations corresponding to several low-mass stellar models, we find distinct differences between realistic convection and MLT. Simulations reveal obvious discrepancies with 1D models throughout the superadiabatic layer (SAL). The dynamical effects of convection change with the evolution of stellar models. The strength of the turbulence, as measured by the turbulent pressure, increases
Figure 2 compares the superadiabaticity of several models and simulations along a 0.90 solar mass evolution track. The superadiabatic peak clearly evolves with the star. The 1D models underestimate both the height and breadth of the superadiabatic peak at all stages of evolution. Further, the difference between the MLT and simulated SALs are greater in the more evolved models where the turbulent pressure is larger.
Similarly, for the same models in the evolution track, figure 3 shows the turbulent pressure and the change in the T-tau relation from including realistic convective overshoot and turbulence in the stellar atmosphere. During the evolution, the effective temperature increases slightly, but there is a dramatic decrease in the surface gravity. Both effects contribute to higher turbulent pressure, which reaches nearly 14% of the gas pressure.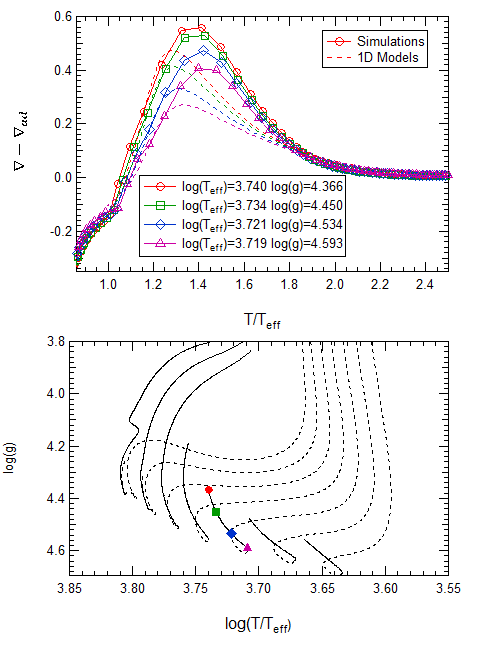 Figure 2: Comparison of the superadiabaticity in 1D models and 3D simulations. The 1D models correspond to different evolutionary states on a 0.90M track. Locations of the 1D models in the log(g)-log(T) are shown in the lower panel with pre- and post- main sequence evolutionary tracks for reference.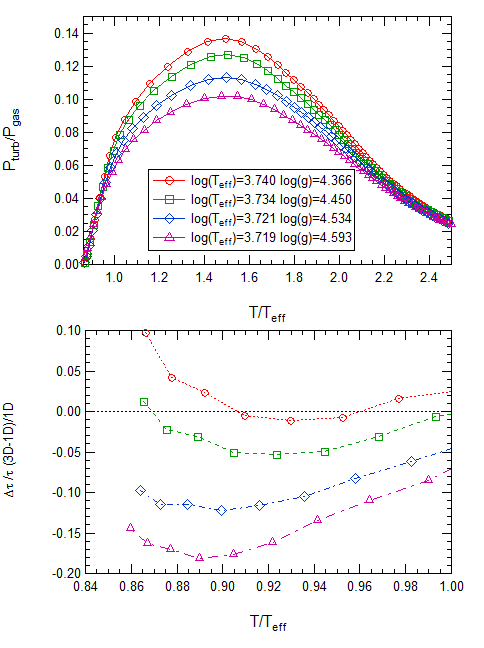 Figure 3: Turbulent pressure in simulations of the SAL for models along a 0.90M track. The turbulence alters the 1D Eddington T-tau relation as the star evolves. Differences between the simulated and model T -tau relations are shown in the lower panel.
Image Credits: (header) NASA, ESA, J. Hester and A. Loll (Arizona State University)