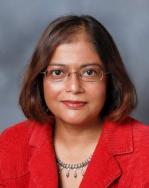 Faculty | Biography
Sarbani Basu
Professor, Astronomy
Past Courses Taught
Astronomy 210: Stars and their Evolution
Astronomy 440/540: Radiative Processes
Astronomy 450/550: Stellar Astrophysics
Astronomy 590: Solar Physics

Research Interests
My research interests include the study of the Sun and stars, and using these to study properties of stellar matter. Highlights of current and past research can be found in my personal web page.

I use the techniques of helioseismology  to study the Sun. My current interest is to study solar-cycle related changes in the Sun. I use data from the Global Oscillation Network Group (GONG) as well as the Michelson Doppler Imager (MDI) on SOHO. I am a Co-I of the upcoming Solar Dynamics Observatory (SDO), and hope to use data from the Helioseismic and Magnetic Imager (HMI) on board SDO once SDO is launched and working.

My stellar physics research involves both theoretical studies and the use of asteroseismology. I am a member of the Kepler Asteroseismic Science Consortium (KASC), asteroseismic data obtained by Kepler will allow us to study the details of stars in a manner that has not been possible so far. Another area of research that I am currently involved in is the study of convective heat transport in stars.
List of Publications
Curriculum Vitae
Miscellaneous
I serve on the Scientific Advisory Committee and the Data Users' Committee of Global Oscillations Network Group (GONG). I also serve on the Users' Commitee of the National Solar Observatory.
Image Credits: (header) Michelle Buxton
Department of Astronomy
Yale University
Box 208101
New Haven, CT 06520-8101
Express Mail
Room 274
J. W. Gibbs Laboratory
260 Whitney Avenue
New Haven, CT 06511, USA