Time interval for morphological transformation
The model assumes that the progenitors of early-type galaxies formed stars from time tstart to tstop, and that some time after the end of star formation they are morphologically classified as early-type. Star forming galaxies are thus first transformed into passively evolving galaxies, and subsequently morphologically transformed into early-type galaxies. The physical mechanism can be a merger, the transformation of a spiral galaxy into an S0 galaxy, or some other process. The assumed relation between star formation and morphology is illustrated below: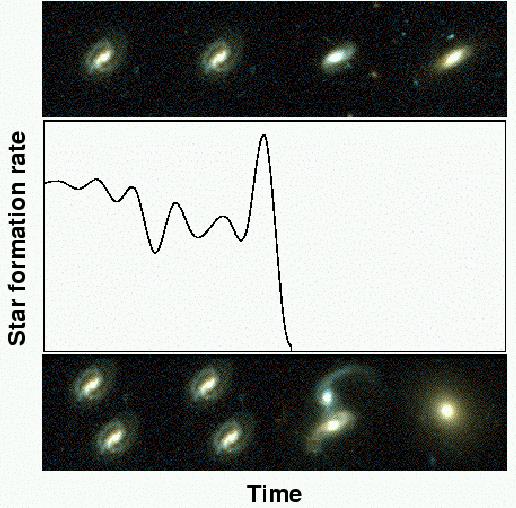 The time interval between cessation of star formation and morphological classification as early-type galaxy is probably on the order of a Gyr, although it will depend on the details of the transformation process. In the van Dokkum & Franx paper it was set fixed at 0.1 x the age of the Universe, i.e., 1.4 Gyr. Here it is a free parameter, entered as a fraction of the age of the Universe.