Remote Observing Information
Logging in to the Remote Observing Computers
Note: If you plan to observe remotely please review the observing policies on remote observing.
How to Login
LINUX:
You need some sort of VNC viewer program - either RealVNC or TightVNC, both are free. Here's how you connect:
To login to WIYN:
1. In a terminal issue the following command:
% ssh -L 10000:ssh-wiyn.kpno.noao.edu:5900 observer@ssh-wiyn.kpno.noao.edu

Provide the observer password. You should now be logged into wiyn-2 as observer, and port 5900 of wiyn-2, which is for Screen Sharing (VNC), should be connected to port 10000 of your own machine. You should minimize the terminal window as a precaution so you don't exit the session by accident.

2. In a separate terminal window on your Yale host use a VNC viewer set to 24bit colors.

If using RealVNC type: vncviewer -FullColor localhost:10000.
If using TightVNC type: vncviewer -truecolor localhost:10000.

You should now be logged in to WIYN (on the wiyn-2 computer).
As of March 2010, we now have 2 Mac stations for use with remote observing: wiyn-1 and wiyn-2. The wiyn-1 station is targeted for use with imaging (WHIRC and MiniMo) while the wiyn-2 station is targeted for use with spectroscopy (Hydra or Sparsepak), however both wiyn-1 and wiyn-2 are setup to operate any instrument. The procedure for accessing either station is identical, you just need to specify the correct one.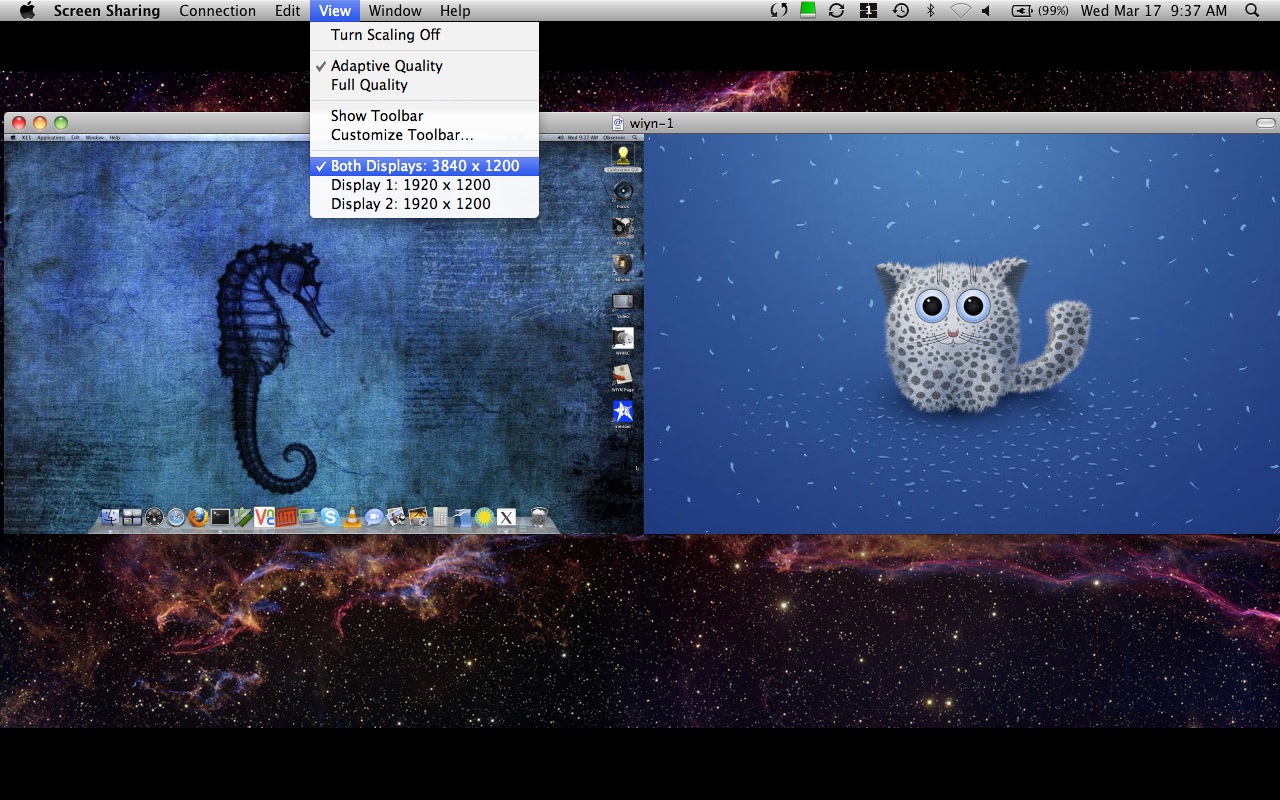 Screen Sharing with wiyn-1, depicting how to change between viewing both displays or a single display.
Launching the Necessary Programs
To access an instrument, double-click on the corresponding icon on the desktop. This will either launch the necessary programs or bring up a menu where you can launch the programs individually.
A couple of other tools on the desktop may be useful during your remote run - the 'WIYN Page', 'Video', 'Focus' and 'Calibration GUI' icons.
The WIYN Page icon will launch a program that displays useful telecope telemetry and status information. Many information pages are available and are navigated using different characters. To see a listing of all of the available pages type the letter 'h'. Type 's' to view the page displaying telescope status - this is the information displayed on the VDU in the control room. Type 'q' at anytime to quit out of this program.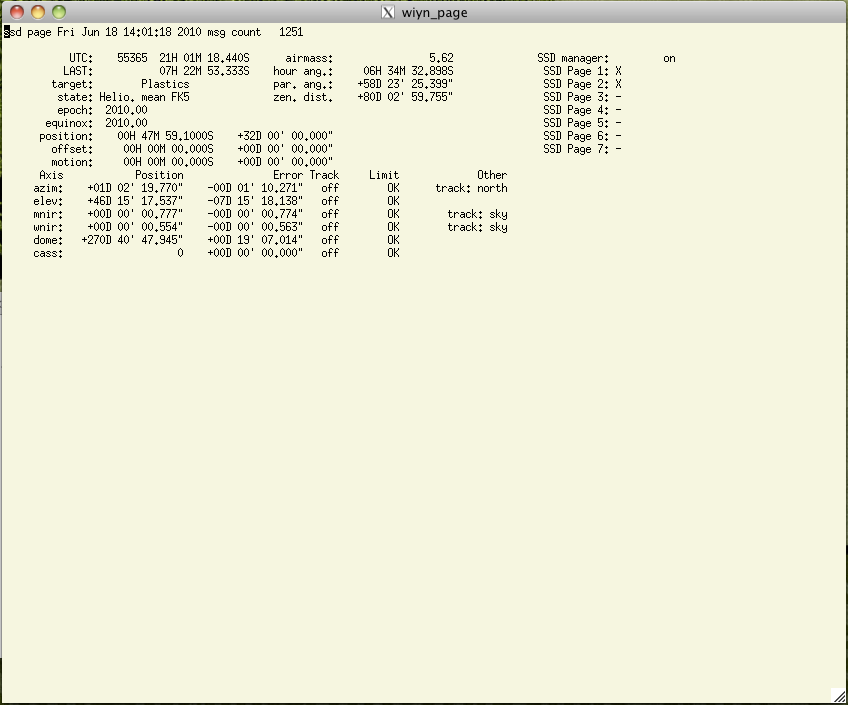 The Video icon will launch a widget that allows one to view different video feeds.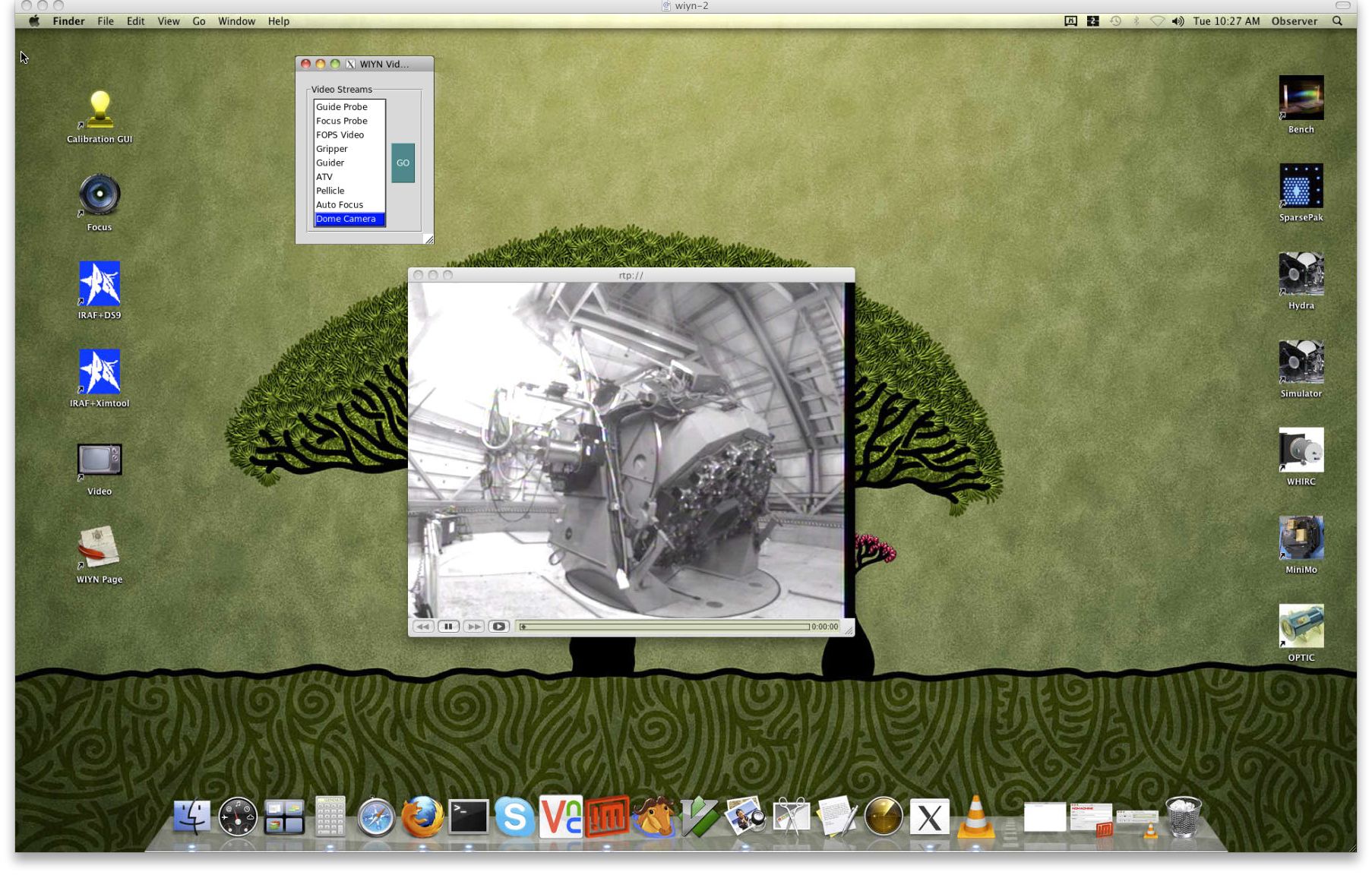 To change which feed you are viewing simply select the desired feed from the video GUI and click on GO.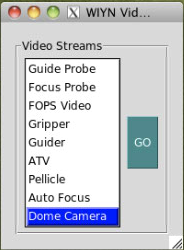 The Focus icon will launch a widget that displays the current telescope focus.

The Calibration GUI icon will launch the GUI used for taking dome flats. Here you will be able to select the dome flat lamps and change the intensity. You must coordinate with an OA or observatory support staff before attempting to take dome flats.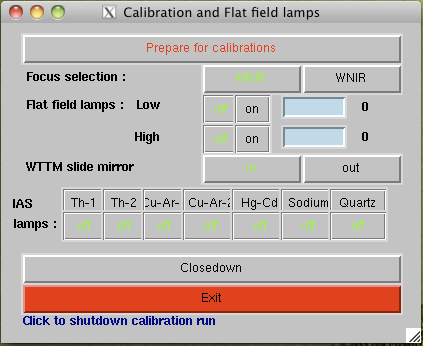 Accessing Your Data
The computers Cork, Dust, and Sand are all NFS mounted onto the Mac mini computer wiyn-2, making your data easily accessible from the Mac. From an xterm window on wiyn-2 change directories (cd) to /data. There you will see the directories 'cork' (Hydra or Sparsepak data), 'sand' (MiniMo data), and 'dust' (WHIRC data). Change paths into the appropriate directory and then into the working directory.
For Hydra or Sparsepak: cd cork/observer
For WHIRC: cd dust/whirc
For MiniMo: cd sand/wiyn_ccd
Last modified: 01-Dec-2012 23:47:13 MST