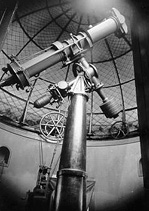 History | Page 2
1882 - 1931
The Yale Heliometer (the only one in America). Ordered from Repsold by H.A. Newton in 1880, delivered on time for measurements of the Transit of Venus on Dec. 6, 1882 for determination of solar parallax. This is the same type of instrument that Friedrich Bessel used in 1838 for the first significant determination of a stellar parallax (61 Cygni). Under the direction of W.L. Elkin from 1883 to 1910 the heliometer yielded (according to Frank Schlesinger) the most (238) and the best parallaxes obtained before the advent of photographic astrometry.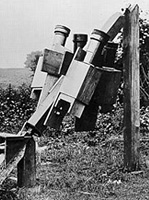 In the late 1890's, W.L. Elkin built two batteries of cameras equipped with rotating shutters for obtaining the velocities as well as the heights of meteors, pioneering work in the study of meteors.
Preparation for the solar eclipse of January 24, 1925, total as seen from Yale.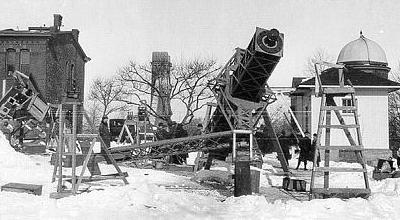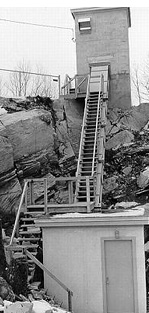 The Loomis Tower on Canner Street, erected in 1923 in memory of Elias Loomis (1811-1889), at the time the largest polar telescope in America. The installation was originally designed for the comfort of the observer who sat at the eyepiece in a warm room at the top of the tower. The tube (beneath the stairs) was parallel to the polar axis of the earth. The building at the base of the tower had a sliding roof and housed a 30-inch optical flat coelostat mirror driven equatorially and reflecting light from any unobscured part of the sky through both a 15-inch photographic and a 10-inch visual guide 'scope, both of the same focal length, 600 inches.
Frank Schlesinger and Willem de Sitter of Leiden Observatory inspecting the 30-inch coelostat mirror of the Loomis telescope, 1931.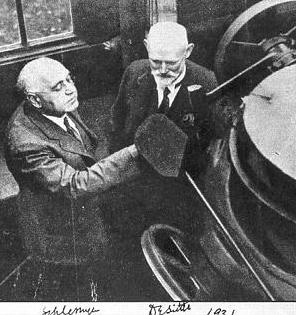 Image Credits: (header) ESA, NASA and P. Anders (Goettingen University Galaxy Evolution Group, Germany)
Index
Antheneum 1856
Antheneum 1870
Sheffield Scientific School 1866
Winchester Observatory Architectural Plans 1873
Yale Observatory (Winchester Observatory)
Margaretta Palmer Acceptance Letter 1880
Reed Telescope Building 1882
Yale Heliometer 1882
W.L. Elkin's Camera Batteries 1890's
Preparation for Solar Eclipse 1925
26-inch long-focus refractor 1925
Loomis Tower 1923
Frank Schlesinger and Willem de Sitter of Leiden Observatory 1931
Loomis Telescope 1957
Mason Lab