History
1856 - 1882
This brief tour of the history of astronomy at Yale was taken from Dorrit Hoffleit's poster presentation: Highlights of the History of Astronomy at Yale. An excerpt from Dr. Hoffleit's book, Astronomy At Yale 1701-1968, is also available.
Yale's first observatory, the Atheneum, in 1856. From 1830 the tower housed Yale's first and America's largest refractor, a 5-inch Dollond donated by Sheldon Clark. With this telescope Olmsted and Loomis made the first American sighting of the return of Halley's Comet in 1835. (August 31; seen in Europe August 6, but no news of this had reached America). The telescope was mounted on castors and moved from window to window, but it could not reach altitudes much over 30 deg.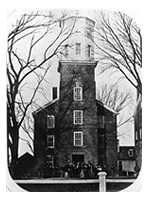 A later view of the Atheneum. Still later, in 1870, a cylindrical turret was added above the tower shown here, so that all altitudes could be reached. The building was demolished in 1893. The telescope is now at the Smithsonian in Washington, D.C.
The Sheffield Scientific School in 1866. The observatory, in the turret (modelled after the gun turret of the ship Monitor), housed a 9-inch Alvan Clark refractor donated by Joseph E. Sheffield, founder of the school. The telescope was later housed in the dome on Bingham Hall (the dome later converted to a small planetarium, and now used as an experimental aquarium). Photograph is copy of one at the New Haven Historical Society.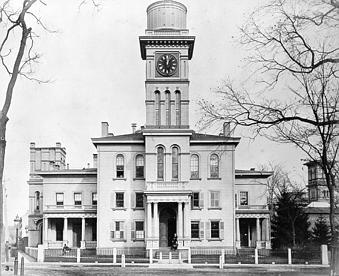 R.G. Russell's original 1873 architectural plans for the Winchester Observatory on Canner Street. Because of the Panic of 1873-4, only about half of the plans could ultimately be carried out.
The Yale Observatory (named Winchester Observatory until 1920) as it appeared until 1956. The dome at the left housed the famous Yale Heliometer, the one at the right, the 8-inch Reed telescope. The Loomis Tower is in the center background.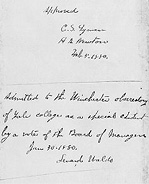 An acceptance letter in 1880. Nine Ph.D.'s were awarded before 1900, including the first to a woman (Margaretta Palmer) in 1894.












The Reed telescope building on Canner Street. The 8-inch telescope financed by E.M. Reed of New Haven was first used for photographing the sun during the transit of Venus on Dec. 6, 1882.








Image Credits: (header) ESA, NASA and P. Anders (Goettingen University Galaxy Evolution Group, Germany)
Index
Antheneum 1856
Antheneum 1870
Sheffield Scientific School 1866
Winchester Observatory Architectural Plans 1873
Yale Observatory (Winchester Observatory)
Margaretta Palmer Acceptance Letter 1880
Reed Telescope Building 1882
Yale Heliometer 1882
W.L. Elkin's Camera Batteries 1890's
Preparation for Solar Eclipse 1925
26-inch long-focus refractor 1925
Loomis Tower 1923
Frank Schlesinger and Willem de Sitter of Leiden Observatory 1931
Loomis Telescope 1957
Mason Lab