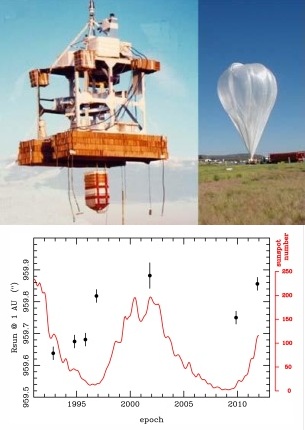 Measuring the Angular Size of the Sun
The balloon-borne Solar Disk Sextant (SDS) experiment has measured the angular size of the Sun on seven occasions spanning the years 1992 to 2011. The solar half-diameter -- observed in a 100-nm wide passband centered at 615 nm -- is found to vary over that period by up to 200 mas, while the typical estimated uncertainty of each measure is 20 mas. The diameter variation appears as if it might be cyclic, although it is not in phase with the solar activity cycle; thus, the measured diameter variation is not an observational artifact of surface activity. Our SDS group is planning future, annual flights over the next three years.
Image Credits: (header) Image of prominence, SOHO (ESA & NASA)

07.17.2014

Charting the heavens like never before, via Sloan Digital Sky Survey
Yale University scientists are involved all of the major aspects of the Sloan Digital Sky Survey, an initiative that spans four continents and includes 200 astronomers at more than 40 institutions. They will chart thousands of nearby galaxies, probe the composition of stars throughout the Milky Way with novel clarity, and measure the expansion of the universe during a particularly murky period. MORE INFO
07.11.2014

Yale astronomers find seven galaxies using camera lenses
The astronomy project, using eight telephoto lenses lashed together, turned up seven new galaxies, but so far it's unknown how far away they are. That's why the scientists have rented time on the giant space-based Hubble telescope "to see if Hubble can find individual stars in the galaxies," he said. That will tell them how far away the galaxies are. It's a difficult task because the galaxies are all diffuse in nature. MORE INFO
05.20.2014

Liang Yu, '14 B.S. has been awarded the Beckwith Prize from the Astronomy Department.
The prize is awarded to the undergraduate most proficient in some branch of astronomy or mathematics. In addition to the Beckwith Prize, Liang also was awarded Exceptional Distinction in the Major. Congratulations Liang! MORE INFO

Colloquia & Seminars | VIEW ALL
Currently, there are no department events.
Please check back again soon.
The Leitner Family Observatory and Planetarium is open every Tuesday night for a planetarium show. Weather permitting there will also be public viewing of planets, nebulae, star clusters and whatever happens to be interesting in the sky. Seats are available on a first come first serve basis. No reservations necessary.
Current updates are posted under the Newsblog and Calendar sections at leitnerobservatory.org