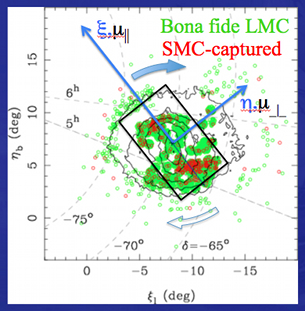 Interloper Stars in the Large Magellanic Cloud
Dana Casetti, Terry Girard, William van Altena
A recent radial-velocity study (Olsen et al. 2011) of ~5900 red giants and supergiants in the LMC has uncovered a population of a few hundred stars that have distinct kinematics from the stars of the LMC disk. Metallicities of a subsample of these stars were found to be similar to stars in the Small Magellanic Cloud. This led the authors to suggest the stars were captured from the SMC by the LMC in a previous interaction of the Clouds.
We have used SPM4 proper motions to analyze the extra two velocity dimensions of these stars. Combining the proper motions and radial velocities, we were able to determine that the SMC-captured stars rotate in the same sense as the LMC disk, but at an inclination of about 50 degrees with respect to the disk. The existence of these stars, together with other facts, point to an off-center, moderate to highly inclined collision of the SMC with the LMC disk some 100 to 200 million years ago.
Image Credits: (header) Image of prominence, SOHO (ESA & NASA)

12.03.2013

Megan Urry is one of five Yale scholars named as a fellow of the American Association for the Advancement of Science (AAAS)
Megan Urry, professor of physics and astronomy, for "exemplary dedication to research and teaching in physics and astronomy, and for leadership in promoting the participation of women in the physics profession." MORE INFO
11.14.2013

Hubble Reveals First Pictures of Milky Way's Formative Years
"For the first time, we have direct images of what the Milky Way looked like in the past," said study co-leader Pieter G. van Dokkum of Yale University in New Haven, Conn. "Of course, we can't see the Milky Way itself in the past. We selected galaxies billions of light-years away that will evolve into galaxies like the Milky Way. By tracing the Milky Way's siblings, we find that our galaxy built up 90 percent of its stars between 11 billion and 7 billion years ago, which is something that has not been measured directly before." MORE INFO
10.23.2013

Astrophysics advance explanation for star formation
"After decades of inconclusive debate about the interpretation of the correlations among molecular cloud properties that I published in 1981, it's gratifying to see that my original idea that they reflect a hierarchy of supersonic turbulent motions is well supported by these detailed new simulations showing that the debated complicating effects of gravity, magnetic fields, and multiphase structure do not fundamentally alter the basic picture of a turbulent cascade," said Larson in response to the new findings by the UC San Diego researcher. MORE INFO

Colloquia & Seminars | VIEW ALL
Currently, there are no department events.
Please check back again soon.
The Leitner Family Observatory and Planetarium is open every Tuesday night for a planetarium show. Weather permitting there will also be public viewing of planets, nebulae, star clusters and whatever happens to be interesting in the sky. Seats are available on a first come first serve basis. No reservations necessary.
Current updates are posted under the Newsblog and Calendar sections at leitnerobservatory.org