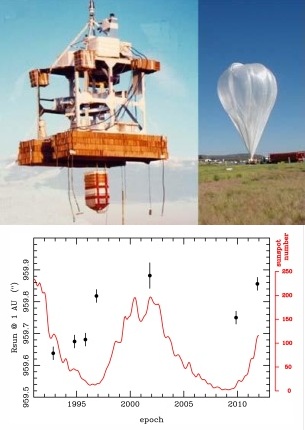 Measuring the Angular Size of the Sun
The balloon-borne Solar Disk Sextant (SDS) experiment has measured the angular size of the Sun on seven occasions spanning the years 1992 to 2011. The solar half-diameter -- observed in a 100-nm wide passband centered at 615 nm -- is found to vary over that period by up to 200 mas, while the typical estimated uncertainty of each measure is 20 mas. The diameter variation appears as if it might be cyclic, although it is not in phase with the solar activity cycle; thus, the measured diameter variation is not an observational artifact of surface activity. Our SDS group is planning future, annual flights over the next three years.
Image Credits: (header) Image of prominence, SOHO (ESA & NASA)

04.01.2014

Congratulations Jeremy Bradford on being awarded the NSF Graduate Research Fellowship!
2014 NSF GRFP Competition Results Announced! MORE INFO
03.24.2014

Hoffleit Undergraduate Research Scholars
The Astronomy department at Yale is pleased to announce the inaugural Hoffleit Undergraduate Research Scholars have been announced. MORE INFO
03.09.2014

ALMA study by Yale astronomer Hector Arce is featured in CBS show "60 minutes" report on ALMA.
The prestigious news program "60 Minutes" aired a segment on the Atacama Large Millimeter/sub-millimeter Array (ALMA). Data obtained by Yale astronomy professor Héctor Arce using this powerful new telescope was prominently featured in this report. MORE INFO

04.29.2014, 2:30pm BASS 305
Seminar - Daniela Calzetti
UMass Amherst
"Nearby Galaxies: Star Formation in your Neighborhood"
05.01.2014, 2:30PM BASS 305
Colloquium - Marcia Bartusiuk
MIT
TBA -Colloquium May 1
05.06.2014, 10:00am JWG 164
Seminar - Costantino Sigismondi
ICRA International Center for Relativistic Astrophysics, Rome Italy, UFRJ and Observatorio Nacional, Rio de Janeiro, Brazil
Stellar Tea: "Secular Variations of the solar diameter: a synopsis of ground-based observations"
05.08.2014, 2:30PM BASS 305
Colloquium - Jason Kalirai
Space Telescope Science Institute
"The Stellar Graveyard of the Milky Way"
The Leitner Family Observatory and Planetarium is open every Tuesday night for a planetarium show. Weather permitting there will also be public viewing of planets, nebulae, star clusters and whatever happens to be interesting in the sky. Seats are available on a first come first serve basis. No reservations necessary.
Current updates are posted under the Newsblog and Calendar sections at leitnerobservatory.org