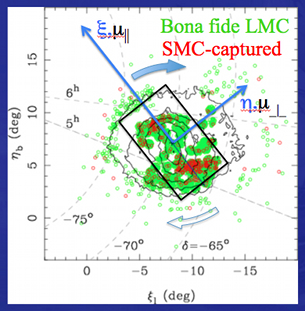 Interloper Stars in the Large Magellanic Cloud
Dana Casetti, Terry Girard, William van Altena
A recent radial-velocity study (Olsen et al. 2011) of ~5900 red giants and supergiants in the LMC has uncovered a population of a few hundred stars that have distinct kinematics from the stars of the LMC disk. Metallicities of a subsample of these stars were found to be similar to stars in the Small Magellanic Cloud. This led the authors to suggest the stars were captured from the SMC by the LMC in a previous interaction of the Clouds.
We have used SPM4 proper motions to analyze the extra two velocity dimensions of these stars. Combining the proper motions and radial velocities, we were able to determine that the SMC-captured stars rotate in the same sense as the LMC disk, but at an inclination of about 50 degrees with respect to the disk. The existence of these stars, together with other facts, point to an off-center, moderate to highly inclined collision of the SMC with the LMC disk some 100 to 200 million years ago.
Image Credits: (header) Image of prominence, SOHO (ESA & NASA)

04.01.2014

Congratulations Jeremy Bradford on being awarded the NSF Graduate Research Fellowship!
2014 NSF GRFP Competition Results Announced! MORE INFO
03.24.2014

Hoffleit Undergraduate Research Scholars
The Astronomy department at Yale is pleased to announce the inaugural Hoffleit Undergraduate Research Scholars have been announced. MORE INFO
03.09.2014

ALMA study by Yale astronomer Hector Arce is featured in CBS show "60 minutes" report on ALMA.
The prestigious news program "60 Minutes" aired a segment on the Atacama Large Millimeter/sub-millimeter Array (ALMA). Data obtained by Yale astronomy professor Héctor Arce using this powerful new telescope was prominently featured in this report. MORE INFO

04.24.2014, 2:30PM BASS 305
Colloquium - Marc Postman
Space Telescope Science Institute
"The Cluster Lensing And Supernova survey with Hubble"
04.29.2014, 2:30pm BASS 305
Seminar - Daniela Calzetti
UMass Amherst
"Nearby Galaxies: Star Formation in your Neighborhood"
05.01.2014, 2:30PM BASS 305
Colloquium - Marcia Bartusiuk
MIT
TBA -Colloquium May 1
05.08.2014, 2:30PM BASS 305
Colloquium - Jason Kalirai
Space Telescope Science Institute
"The Stellar Graveyard of the Milky Way"
The Leitner Family Observatory and Planetarium is open every Tuesday night for a planetarium show. Weather permitting there will also be public viewing of planets, nebulae, star clusters and whatever happens to be interesting in the sky. Seats are available on a first come first serve basis. No reservations necessary.
Current updates are posted under the Newsblog and Calendar sections at leitnerobservatory.org